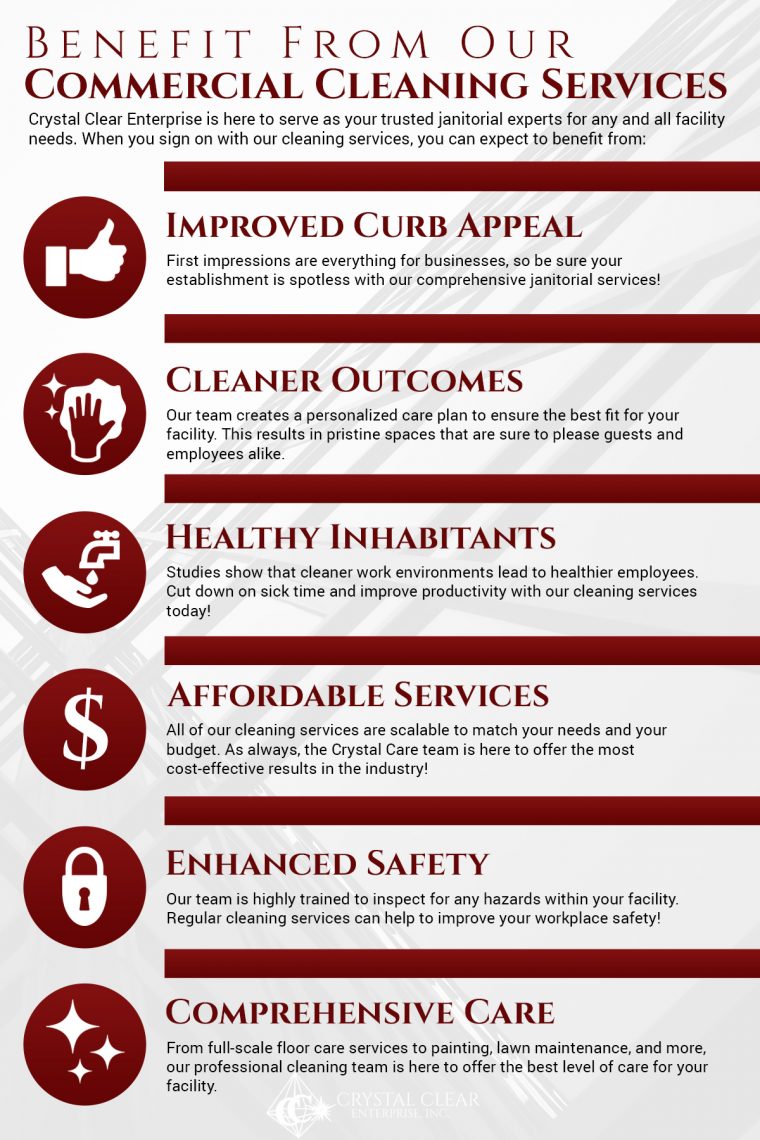 These days, it seems that anybody with the right equipment and a van can say that they offer professional cleaning services, yet few deliver when your business' reputation is on the line. As a business owner or property manager, it is essential for you to find a commercial cleaning company with the tools and training to get the job done right. Crystal Clear Enterprise is here to serve as your source for quality janitorial services across Kansas City. Our team receives the best training and support to be able to deliver the highest level of care to you, the customer.
As our infographic above points out, there are many benefits you can expect from professional office cleaning services. When you are finished reading this post, be sure to call our team to receive an evaluation for your property!
Improve Your Company's Curb Appeal
First impressions are everything for businesses, so be sure your establishment is spotless to ensure the best results. The human eye is trained to notice problems such as dirt and disrepair, signaling to the brain that caution should be taken. Our commercial cleaning services serve to create a spotless outcome for your facility that as consistent and it is comprehensive. Instead of worrying about the state of your facility before a big meeting or event, instead turn to the Crystal Clear team for a spotless outcome!
Cleaner Outcomes Equate to Better Experiences
Our team works hard to create a personalized care plan to ensure the best fit for your facility. We as humans enjoy neat, tidy spaces, so be sure you take the time to invest in janitorial services that will meet your unique facility needs. Hospitals, banks, and other establishments hold vastly different office cleaning demands, which is why the Crystal Clear team's experience is unbeatable in the industry.
Healthy Inhabitants are Happy Inhabitants
Studies show that cleaner work environments lead to healthier employees. If your facility is full of dust, dander, mold, or any other irritants, a toll may be taken on your employees' and guests' health. Buildings with high levels of airborne toxins exhibit "sick building symptoms," an invasive problem that can affect many of your employees. Our commercial cleaning company strives to deliver the best outcome for our clients, and our team will work diligently to clean the air in your facility. The result is often healthier employees, which are both happier and more productive. A win-win!
Our Services Are Scalable and Affordable
All of our cleaning services are scalable to match your needs and your budget. We understand that running a business means that you need to balance the complex spectrum of products and services. Crystal Clear Enterprise can work with businesses of all sizes to find the perfect care plan, whether that includes specialty services or customizing the coverage to save on costs. Rooms such as facility closets, for example, are much less time-intensive in terms of cleanliness compared to hallways or waiting rooms. Our team is ready to provide office cleaning services tailored to meet your needs, so be sure to contact us for a consultation today!
Enhanced Safety Results
Our team is highly trained to inspect for any hazards within your facility. Regular cleaning services serve as the time for our janitors to check for any dangerous issues or areas in need of additional service. Our proactive approach to comprehensive facility care ensures that your building is safe from tripping hazards, fire code violations, and more. Not sure about the quality of your current conditions? We can help!
Comprehensive Facility Care
From full-scale floor care services to painting, lawn maintenance, and more, our professional cleaning team strives to deliver the highest level of care for each of our clients. Our commercial cleaning company helps Missouri businesses of all types find success, and our versatile training programs and available staff members ensure that you are fully satisfied with the versatility of our services.
Crystal Clear Enterprise is dedicated to providing clear benefits for your business. We proudly provide the best janitorial services to Kansas City and beyond, relying on the best training and comprehensive care for quality on every job. Contact us today to learn more and to receive an estimate for your facility's needs!