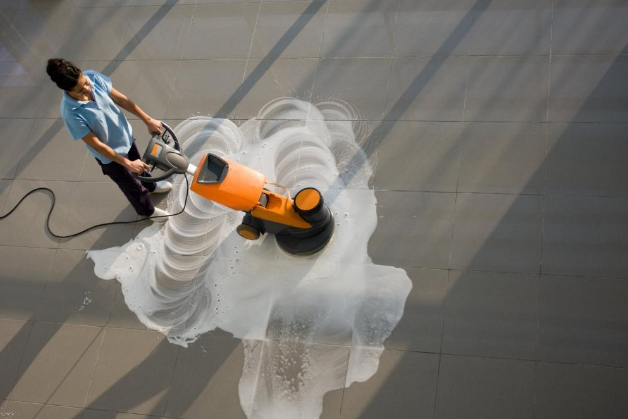 Every season brings with it a different kind of property upkeep and cleaning requirement for commercial buildings.
Air vents that were given a rest in winters and autumn need to be in optimal condition for the summers; the pipelines need to be clog-free; the building needs to be cleaned thoroughly to welcome the new season.
General Walkthrough
Ask your janitorial service provider to look out for fused bulbs, broken faucets and clogged drains for their seasonal inspection of the building. Schedule a detailed cleaning of your office every season.
Create a checklist for your janitorial service and make sure they deliver a shining office for the new season. Here are some suggestions for your cleaning and maintenance checklist:
Repair door locks and corner guards

Look for tile and grout

Fused lights bulbs

Carpet cleaning

Re-painting

Window cleaning  
Floors and Carpet Care
Floors and carpets need a deep-cleaning after frequent use. Dirt, dust, and allergens accumulate on your floors and carpets with use.
To prolong the life of your floors, schedule a floor stripping and waxing and deep-shampoo cleaning for your carpet. This will brighten the appearance of your building along with hygiene standards.
Bathroom Check
This room requires daily upkeep, but a detailed cleaning is also a must. With minor maintenance, you can cater to impending problems beforehand, and get broken things repaired. Make sure the janitorial staff restocks your bathroom with toilet paper, dispensers, and sanitizer.  
HVAC Maintenance
Your A/C needs to perform at top condition to beat the heat this summer. Get an annual maintenance of your HVAC system to ensure that your unit is free of dust, allergen, leaks, sludge, and odor. Regular maintenance will slow down the degradation process for your A/C and save you from an immediate replacement cost.
Lawn Maintenance
The view and the surrounding of your building have a major impact on your employees, clients, and passersby. Welcome the new season by giving your lawn a nice trim.  
Window Cleaning
Once you are done preparing your building from the inside, give the exterior a little attention as well. Ask your janitorial service to give a thorough cleaning of your windows, so you can easily enjoy the sunshine.
Pest Prevention
Buildings get attacked by seasonal pest. It's better to get your building treated for pest while you are getting a detailed cleaning. Prevent an infestation beforehand to enjoy a pest free season.
Office Furniture
Dust and dirt on office furniture does not only look bad, but also affects employee morale.
Get your furniture dusted and polished for the new season. Most importantly, don't forget to vacuum your computer room.
Buildings need to meet hygienic and safety standards. To enhance and maintain your building for the summers, call (816)763-3353 to get a complete cleaning package.
Crystal Clear Enterprise Inc have a fleet of highly trained staff and perform floor cleaning, janitorial services, specialty services, and commercial carpet cleaning in Kansas City.